Island Key | Florida House Plan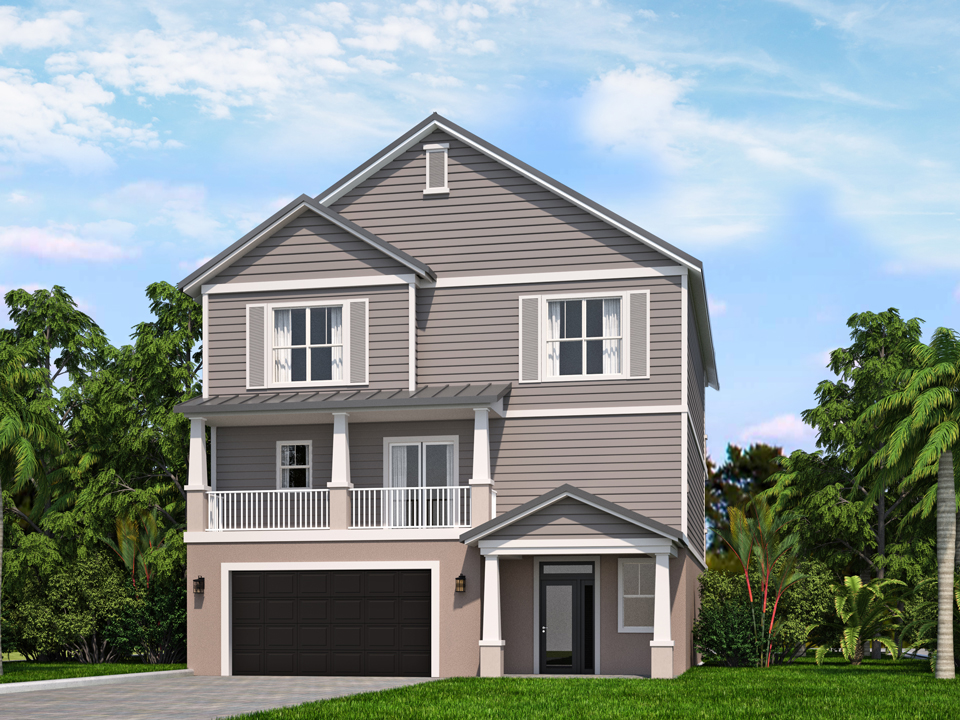 Island Key
Coastal Collection
4 Bedroom - 4 Baths
Width . . . . . 36'-0"
Depth . . . . . 52'-0"
Total Build . . . 5,509 Sq Ft
Total Living . . . 3,180 Sq Ft
Click on images to enlarge
Coastal House Plan
The Island Key house plan at only 36' wide offers over 3,000 sq ft of living space making it great for a narrow waterfront building lot. Making outdoor living at its best this house plan includes a 4th floor sun deck allowing private sun bathing or just offering excellent views from such I high level. Meeting the requirements of most flood zone building lots this elevated coast home offers three floors not including the top sundeck. On the first floor you will find enough room for three car garage enclosed storage, semi-private ground floor outdoor living space at 21'x24' and the small 1st floor foyer. On the Second floor the open two story foyer leads you right into the open concept Great Room, Kitchen and Dining area with all rear looking glass walls. In addition the 2nd floor offers a mini-master suite with its own private bath making it great for visiting friends or long term living. The third floor contains the three main bedrooms with the master bedroom featuring a large four panel glass rear sliding door opening to a spacious private covered Lanai. Tying these floors altogether is the option elevator placed right in place of all the major traffic routes on all three floors. Some of the Best features of a Gast Homes Coastal house plans is the ability to withstand some of Florida's worse storms. Using upgraded Fortified building techniques they build the main shell so strong it exceeds the Fortified Gold Standard. When possible the exterior walls are built from ground level to roof edge using (ICF) Insulated Concrete forms at 11" thick it offers the highest energy savings at a r-50 value. These ICF walls also include a full 6" rebar reinforced solid concrete core making them ten times stronger than wood construction and four times stronger than CMU Block walls. If you're interested in Building a new construction home anywhere in Florida, make sure to reach out to your local certified Gast Homes real estate agents.
New Construction Features
Granite Countertops.
Solid Wood Cabinets.
9' interior ceiling heights.
Impact rated exterior windows & doors.
Tile, with carpet bedrooms.
Closed Attic System options.
Advantech roof sheathing system.
Insulated concrete form (ICF) exterior wall options.
Florida Home Builder
State Certified General Contractor.
Thirty years experience.
Building Performance Institute, BPI Certified Inspection.
Blower Door, ASHRAE, Duct pan Quality control testing.
Site Development, Scattered site, Single Family, Condos and Townhomes.
Disclaimers: Copyright 2016 Gulf Beach Development, Inc. All rights reserved (Copyright Protected) CGC1521427  This home may reflect options not included in the base price. Pricing is subject to change based on jobiste locations.