Bella Bay | Florida House Plan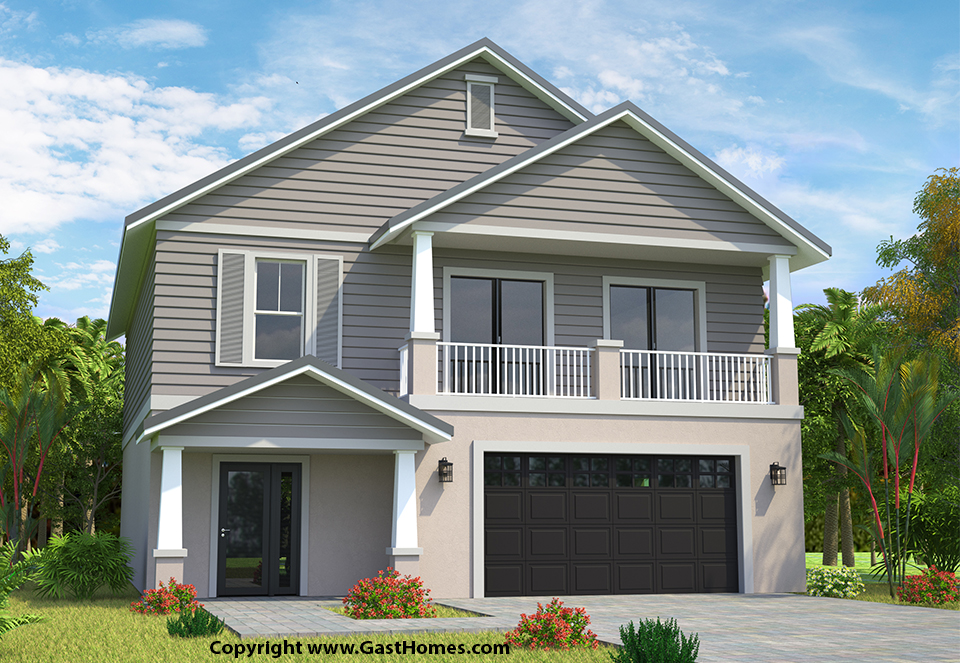 Bella Bay
Coastal Collection
3 Bedroom - 2 Baths
Width . . . . . 36'-0"
Depth . . . . . 49'-0"
Total Build . . . 3,224 Sq Ft
Total Living . . . 1,768 Sq Ft
Click on images to enlarge
Coastal Ranch House Plan
Bella Bay Coastal House Plan. Gast Homes takes pride in providing energy efficient coastal house plans and this Bella Bay is a prime example. Comfortable living floor plan that is well designed to utilize space and the newest energy efficient amenities. This home can be built on a waterfront lot and packs a three car garage and enormous covered outdoor living. Owners love the unique designs which are more than energy efficient Coastal house plans but works of art. Look at the option to place a swimming pool partially under the home in the semi-private outdoor living space. The home is inviting with a ground level entrance and elevator. Thereafter, the 2nd floor you can easily look down to the ground floor entrance and buzz in your wanted guest. Once placed on a waterfront building lot this home offers spectacular window views from almost any area of the home. If you're getting tired of paying high priced flood insurance consider this or other coastal house plans. Our homes can be built to have exterior options to change the look to other popular designs like our beach style, Mediterranean and the classic Florida homes. Buyers that like coastal house plans will be happy to know we have many designs with pricing. Give us a call today and let's make your dream come true. Like all Gast Homes house plans the floor plan reflects many of the exterior walls as ICF, Insulated Concrete Form walls at 11″ thick. Although this makes the strongest and most energy efficient home possible you could choose other options that include different wall thickness. Buyers know our Coastal house plans are designed for strength and performance.
New Construction Features
Granite Countertops.
Solid Wood Cabinets.
9' interior ceiling heights.
Impact rated exterior windows & doors.
Tile, with carpet bedrooms.
Closed Attic System options.
Advantech roof sheathing system.
Insulated concrete form (ICF) exterior wall options.
Florida Home Builder
State Certified General Contractor.
Thirty years experience.
Building Performance Institute, BPI Certified Inspection.
Blower Door, ASHRAE, Duct pan Quality control testing.
Site Development, Scattered site, Single Family, Condos and Townhomes.
Disclaimers: Copyright 2016 Gulf Beach Development, Inc. All rights reserved (Copyright Protected) CGC1521427  This home may reflect options not included in the base price. Pricing is subject to change based on jobiste locations.